Laura Terrill
Professional Learning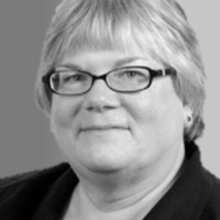 Laura Terrill is a national consultant who currently serves as the Senior Associate for Professional Development for the National Foreign Language Center (NFLC) at the University of Maryland.
Laura holds a BA in French from the University of Missouri — St. Louis and a MA in Secondary Administration from Northeast Missouri State University. She taught French at all levels for 21 years before becoming the Coordinator of Foreign Language and English as a Second Language and then, Director of Curriculum.  She has taught methods courses in St. Louis and in Indianapolis and continues to present at the local, state, regional and national levels. She has served on the Board of Directors for Central States and ACTFL. She is the recipient of the Founders Award for Central States, has been named as the NADSFL District Supervisor of the Year and has received the ACTFL Florence Steiner Award for Leadership. She recently co-authored the Second Edition of ACTFL Keys to Planning for Learning: Effective Curriculum, Unit and Lesson Design.
blog posts
Learn about plans for the 2022 series of summer institutes which includes hands-on professional learning led by practicing classroom educators and guided by experts in the world language education field.

In this episode, four language educators discuss how to create positive relationship with students in online and hybrid environments.