Laura Terrill
Professional Learning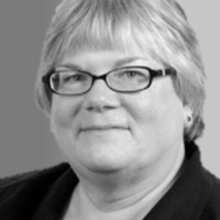 Laura Terrill is a national consultant who currently serves as the Senior Associate for Professional Development for the National Foreign Language Center (NFLC) at the University of Maryland.
Laura holds a BA in French from the University of Missouri — St. Louis and a MA in Secondary Administration from Northeast Missouri State University. She taught French at all levels for 21 years before becoming the Coordinator of Foreign Language and English as a Second Language and then, Director of Curriculum.  She has taught methods courses in St. Louis and in Indianapolis and continues to present at the local, state, regional and national levels. She has served on the Board of Directors for Central States and ACTFL. She is the recipient of the Founders Award for Central States, has been named as the NADSFL District Supervisor of the Year and has received the ACTFL Florence Steiner Award for Leadership. She recently co-authored the Second Edition of ACTFL Keys to Planning for Learning: Effective Curriculum, Unit and Lesson Design.
blog posts
When we think of the word "residency", those of us with loved ones in the medical field immediately conjure up images of exhausted young doctors focused intensely on learning, with the work-life balance of a first year teacher. Another residency type is that of an artist at a museum: someone with specific skills who is there for a short period of time to produce art and promote their mission. I love this style of residency because it is grounded in high expectations and yet somehow offers breathing room for growth and inspiration. This also describes PEARLL's new Educator in Residence program. Rather than relying on PEARLL staff to develop classroom oriented materials, they asked someone (me) with specific skills (world language teacher) for a short period of time (100 hours) to produce (content) and promote (the TELL Framework). And for this I am glad, because there was no way I was sacrificing my summer relaxation for anything less!